Mogs @ Moab 2004
Monday, April 5th Klondike Bluffs
---
Participants were:
Paul and Eric Buckner - 710M Pinzgauer
Ron DePugh - 404.1 Unimog
Kent Drummond - 404.1 Unimog
Eric and Jessica Johnson and sons - 416 Unimog
Greg Maiser - 404.1 Unimog

Kent:
Monday started out rainy, so it didn't seem like a very good idea to try any of the trails that involved either a lot of slick rock or anything that might be muddy. We settled on Klondike Bluffs with a return through Arches National Monument, via Tower Arch. Klondike Bluffs is listed as moderate difficulty, but it's really quite easy. I think my stock KIA could handle it with no problem. Interestingly enough, this was the only trail of the entire week where I, and Ron DePugh, suffered any body damage to our mogs. There's one spot where a boulder sticks out in the trail, and the trail tips the truck inward as you go around it. Neither of us gave the boulder wide enough berth, so the boulder nicked both trucks in the left rear corner of their beds.
We stopped at the first location of dinosaur foot prints and gave all the kids a chance to chase around for a while. The sun was out by then and it was a pretty spot for a break.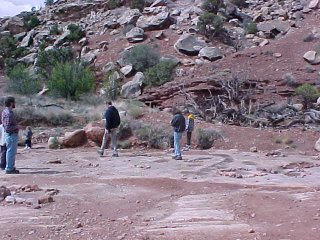 Looking at tracks.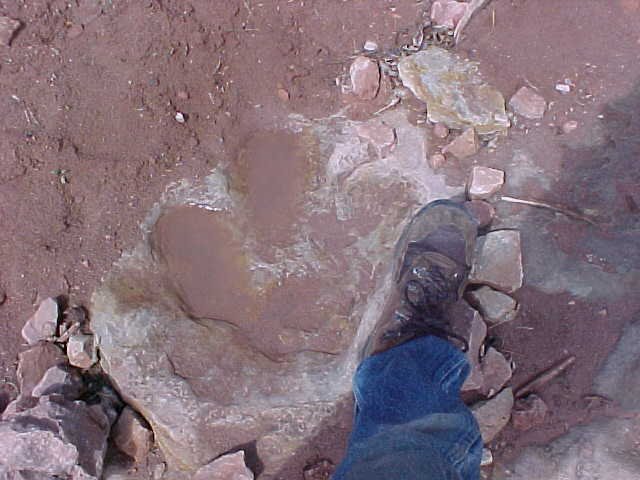 Dinosaur track.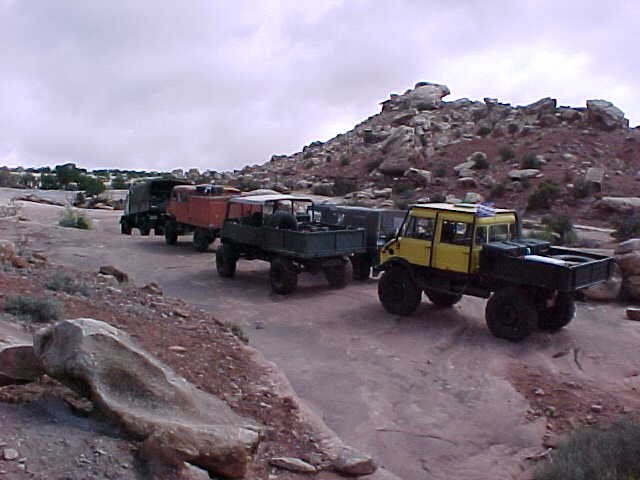 The fleet.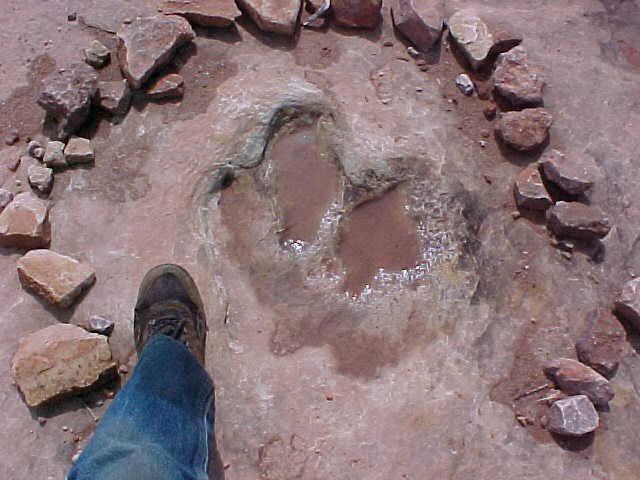 Dinosaur track.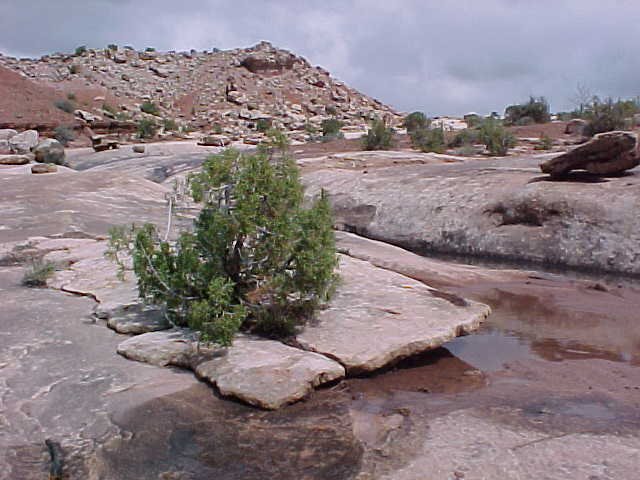 The creek.

Kent:
Rainwater was running down the exposed rock slab, and then flowing laterally through cracks in the rock to eventually form pools at the slab's edge. Most of this trail is a gradual ascent up a wide expanse of exposed sandstone slab, until finally reaching the top of the bluff. We parked the trucks at the end of the road.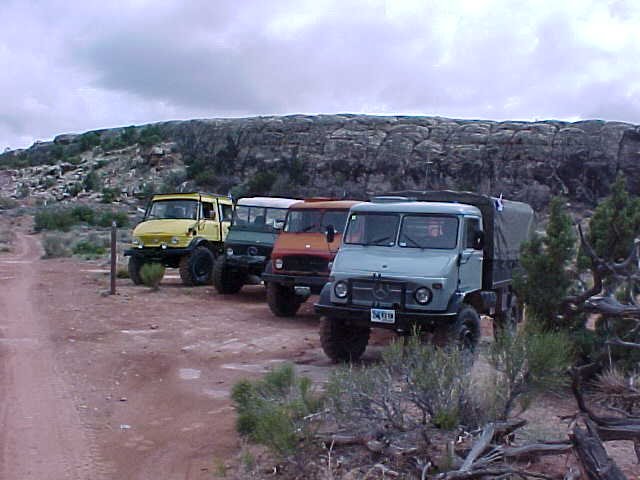 The end of the road.

Kent:
and hiked the final 1/4 mile to the Klondike Bluffs overlook. After exploring an old mining operation on the way back, we had lunch and then continued on over the ridge and down into Salt Valley at the northern end of Arches National Monument.
We took the turn into Tower Arch and were treated with spectacular views of the various formations along the south side of Klondike Bluffs

Klondike Bluffs formations.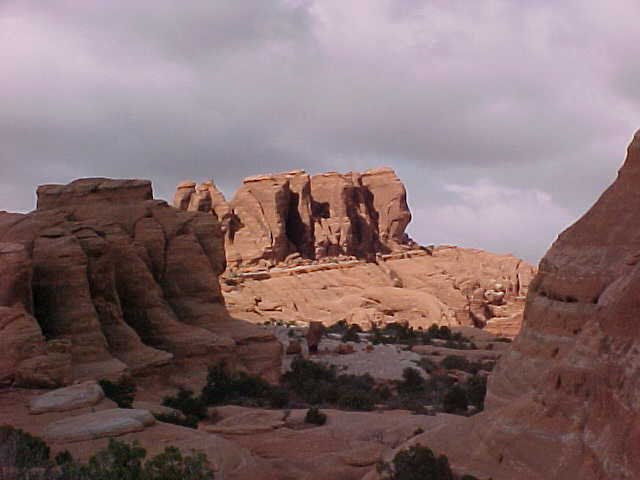 Klondike Bluffs formations.

Kent:
Finally Tower Arch came into view.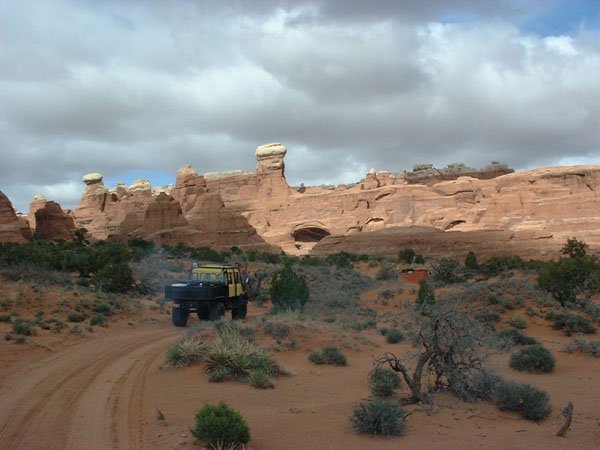 Klondike Bluffs formations.

Kent:
We parked and hiked into Tower Arch, about a 10 minute walk, where we just lazed around for about 1/2 hour, enjoying the immensity of the formation.
Leaving Tower Arch, we had a good view of the Marching Men formation.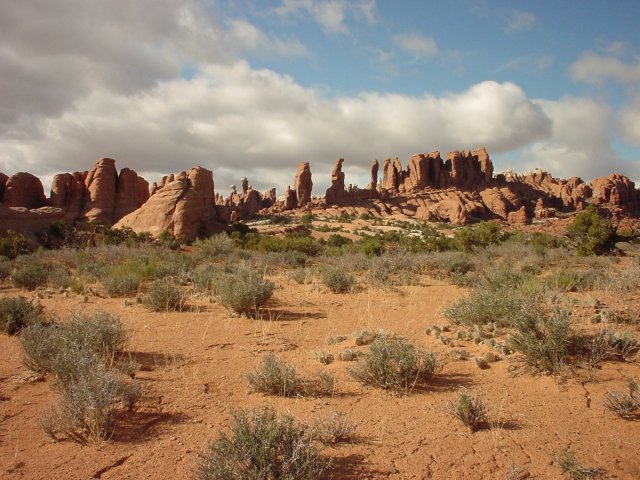 Marching Men formation.

Kent:
We took the back road southbound which ultimately comes out a the Balanced Rock formation.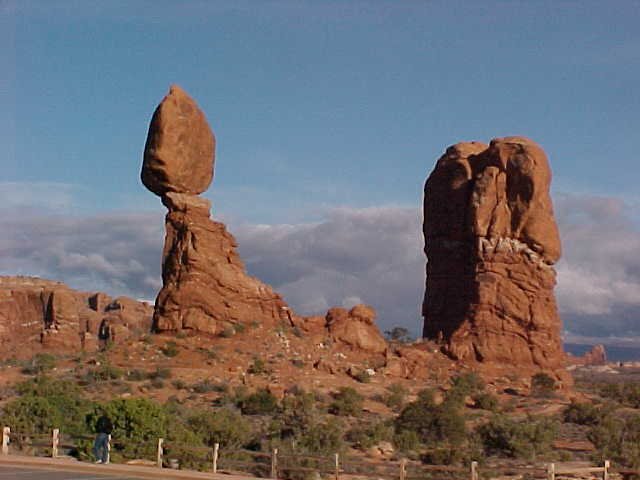 Balanced Rock.

Kent:
This track is mostly sand, so it's possible to rip along at a pretty good pace, which is especially fun when you get into tight, banked curves. From Balanced Rock we took the paved road out to the entrance of Arches, getting a good sunset view of the Tower of Babel along the way.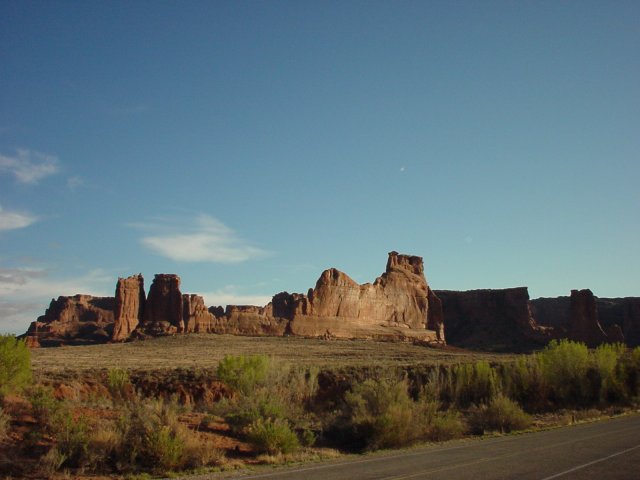 Tower of Babel.

Kent:
The entrance to Arches is being completely redone, as is the highway leading south out of Moab. By next year, it should be possible to head up that long hill without holding up traffic, because there will be an adequate number of lanes.
One of the interesting things about staying at Slickrock Campground is you get to see all manner of strange vehicles up close, and get to talk to the owners. Right across from my campsite was a big lime green monster called T-Rex.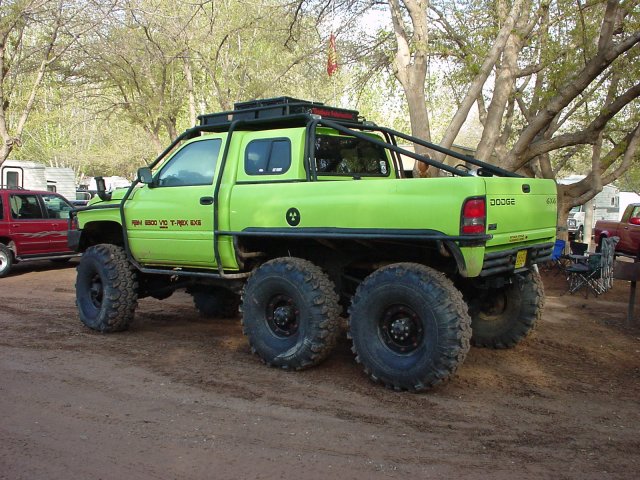 6x6 Dodge pickup.

Kent:
This modified V-10 Dodge was sitting on three Rockwell axles, and looked like it could go just about anywhere it wanted. It's tow vehicle a Dodge dually, with three axles as well.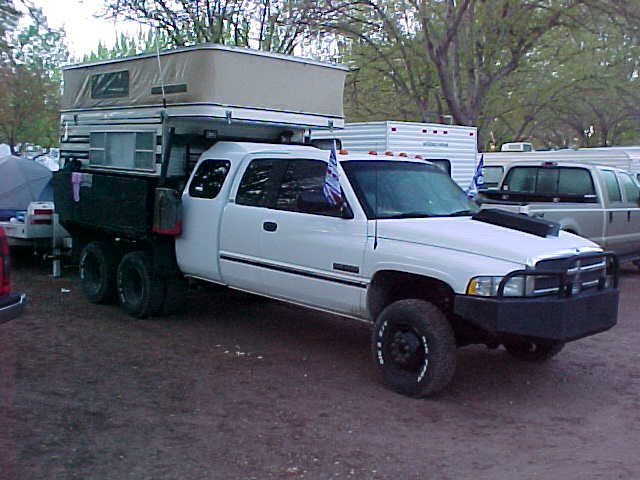 6x6 Dodge tow pickup.

Kent:
The tranny cooler was housed in the hood scoop.
Eric:
**Monday: Klondike Bluffs, Tower Arch
Monday, we decided to do an easy, scenic trail to some bluffs that overlook Arches National Park. On this trail, there was Ken, Ron, Greg, Me and family, and Paul and Eric Buckner. I've never done this trail, so it was enjoyable. It was also great for the boys, since there was a nice hike at the top and several places with dinosaur footprints on the way up. After the hike, we continued over the top of the bluffs down into Arches.
We took a dirt road over to Tower Arch and got out and hiked to it. Jessica and I had driven this trail about 15 years ago on one of our first trips to oab. I kidded Jessica about how scared she was driving up a mild slickrock expanse in our S-10 pickup back then!
After getting back to camp, the Ingham crew arrived with a Haflinger and another Pinz 712 6x6 that they had picked up in Arizona and driven to Utah. It was a pleasure to finally meet Scott and his family.
Moab 2004 Trip reports
Mogs @ Moab 2004 main page
Saturday, April 3rd Geyser and La Sal Pass attempts
Sunday, April 4th Hell's Revenge
Monday, April 5th Klondike Bluffs
Tuesday, April 6th Fins & Things
Wednesday, April 7th Poison Spider group
Wednesday, April 7th Golden Spike group
Thursday, April 8th Kane Creek Canyon group
Thursday, April 8th Metal Masher group
Friday, April 9th Steel Bender
Saturday, April 10th Potato Salad Hill
---
| | | |
| --- | --- | --- |
| | v2.3 Last modified Tuesday, July 13, 2004 23:01:14 | [an error occurred while processing this directive] |