The ZEBRA:
Part I - General initial condition
404.1 Crewcabs were given the "honor" of being driver instruction vehicles. For this reason, many are in rough condition through abuse and misuse. Mine was no exception. Rust had taken a toll on many panels and a previous owner's attempts at repair only made things, well, worse. The nose clip was rusted out under the grill, all four doors were warped (due to heat application during aforementioned repairs), one door hinge broken, rusted through floor panels mostly where moisture was trapped between the sheet metal and the body's structural skeleton, rocker panels rusted through (again, poorly restored initially), and body filler trying to hide some of this stuff. But, everything is there and reworkable, or replaceable. Rear cargo bed had been previously modified to resemble a radio-"cube" and therefore no longer desirable, so it was taken off before delivery and converted to a garden shed.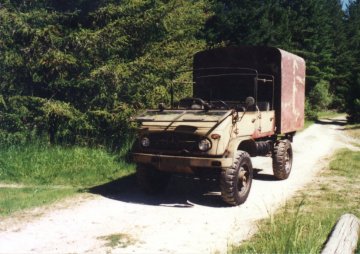 1963 404.1 crewcab with 6x6x6 garden shed on the back.
During mechanical teardown some other things also showed up. Rear brake cylinders completely seized, seeping front axle output seals and hub input seals, and enough differences between left and right front hub and axle to know that the left side had at one time been damaged and replaced with one from a fire tender or ambulance (as denoted by the red paint under the olive drab) along with the drag link. On the positive side, tranny synchros were in great condition, good clutch, output seals not leaking, 2-speed crawler box installed (no shifter), new batteries, fuel pump, and the 2.2L engine running well.
And so begins the transformation.


A good view of the rusted front clip, rockers, doors and general poor condition of the body. The interior was not much prettier.
Having the house and garage construction near completion I was itching to begin "operation ZEBRA" so I had it converted to 5cyl turbo diesel, with power steering and brakes by someone who will remain unnamed but represented himself and appeared to be knowledgeable at such things. We had originally agreed to have him deliver the vehicle in running condition, but later changed this to a non-running delivery. It was taking him way too long and was way past schedule so I took it back early. This also allowed me to make the call on locating all the components.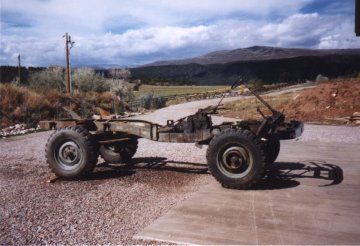 Power wash, power wash, power wash. It took less than 2 days to have it torn down to this point.




Within three days of receiving that truck I had the thing down to bare frame. Nuts and bolts were literally flying in all directions as the air impact wrench zipped everything off without trouble. Except one bolt, the one holding the front track rod to the frame bracket. It had seized within the track rod bushing and wouldn't back out. It was nothing that a saw couldn't manage.

Now we are down to the frame.

Next episode: The Frame

-