The ZEBRA:
There is no arguing that the Mercedes-Benz Unimog is an awesome truck as it rolls off the assembly line, and the 404 is no exception. But, aren't there at least a few things you would change to make it better suited to your specific needs? Of course there are. Rare is the Unimog owner that has not done a little tweaking of their own, as I have. And thus begins this series known as "The Making of ZEBRA".
ZEBRA is my '63 404.1 Crewcab that has undergone a complete (well, almost complete) teardown and reconstruction. My goal was to build a vehicle capable of, and comfortable at, expedition travel, weekend camping, and Rubicon-like trails. I wanted safety, comfort, durability, dependability, and simplicity. I wanted to be able to travel to, and drive through, the toughest of trails, camp out (in style), and then drive back home again (still stylin'). The 404.1 Unimog seemed the likely choice as a base vehicle, and the crewcab version of this for packing along my family. But, there were definitely some areas where the 404 was less than adequate for my needs. And so, modifications were made. Many modifications. In fact, hardly anything was left untouched. Even the (GASP!) frame, was modified. That wonderful piece of German engineering giving the Unimog such unsurpassed off-road abilities was subjected to my Sawzall. All in hopes of creating an Extreme Vehicle among Extreme Vehicles: The Zebra.
This series is going to take you through the reconstruction. I felt that rather than a blow-by-blow diary during construction, I preferred the "here's what I did, how I did it, and how it's working" approach. Partly because half the time I didn't know how I was going to do something until I got there, and other times I redid stuff cause it just wasn't right. Moglist discussions are great, but I didn't have the time to wade through all the postings every day, nor did I have time to write/respond to anything either. So I signed off to keep me away from the screen, and into "The Shop".
"The Shop" is a well-equipped oversized two-car garage with an I-beam and hoist I couldn't have done without. Everything was done solo and "post bedtime" about 2-3 nights per week. In the mornings my youngest (son) would always ask me, "Is the Unimog done yet Dad?" I had to answer that question in the negative many times before getting to this point!
I've divided the build-up into "easier to digest" sections dealing with specific systems or groups. I will do my best to answer all questions. Send them directly to me,
Initially I felt it better not to mention any product or supplier names so as not to promote any one over another, but then decided that the information could be a great help to Moggers everywhere, and would answer all of the "what did you use?" questions from the start. I have no sponsorships or alliances with any product I used. Most choices were made through research, looking for quality, reliability, or other parameters that suited my needs.
To date I've put on over 400 miles since being street legal- almost one tank of fuel - and driven 4 different local trails. One was a one mile up and back narrow rocky climb requiring lockers called Dave's Run; Lead King Basin/Crystal City loop with a spur to Devils Punchbowl, about 17 miles, rocky with some narrow spots - stockers welcome; Hubbard's Cave, 10 miles dirt and narrow - stockers welcome; and finally Cottonwood Pass between Glenwood springs and Gypsum "Impassible When Wet" during a rain and snow storm - picture a 5 mile mud bog with hills and curves at high elevation, then go through it twice.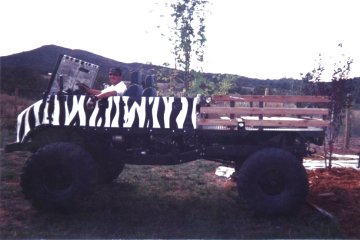 Using the Zebra for landscaping chores.
So lets get on with it....
---
Zebra Update - 2006

4000 hard miles on the Pack Animal has revealed both strong and weak points. On the good side, I seem to have no problems with traction and have been able to crawl many very difficult obstacles while in full expedition trim (more on this later). Where momentum is required, however, I call out for the cable. There is just too much weight to throw around and it does stress the truck. The crawler gears have been the ticket here, especially with the diesel motor. I have idled both front wheels simultaneously up 3 foot rock ledges. The biggest problem here is having the spotters fall asleep during my ascents! She's no stranger to the harder lines either. Often, the only way I fit is by creative pathfinding, and its been very surprising what the Zebra can do. So anyway, I figure its time to update on things that have been added, changed, or removed, why and how. Hopefully, someone can glean some sort of tidbit of useful information that may help them decide what to do with theirs.