November 11th, 2001 RMM & RMP Chili Run
---
| | | |
| --- | --- | --- |
| Attendees (in no particular order): | From: | Vehicle: |
| Jan & Steve Hale & Miller the dog | Littleton, Colorado, USA | 1972 710M Pinzgauer |
| Brian Gould | Livermore, Colorado, USA | 1974 710M Pinzgauer |
| John Light | Lakewood, Colorado, USA | Pinzgauer |
| John & John Ashby | Lakewood, Colorado, USA | 1973 710M Pinzgauer |
| Christian Hutter & Stefan Lanziner | Denver, Colorado, USA | 1975 710K Pinzgauer Radio Truck |
| Al Fink & Kathy Linz | Denver, Colorado, USA | 1972 710M Pinzgauer |
| Jim & Mary Molter | Breckinridge, Colorado, USA | Pinzgauer |
| Frank & Freida Smith | Golden, Colorado, USA | 1973 712M Pinzgauer |
| I-da Fan & Umching | Parker, Colorado, USA | Pinzgauer |
| Per Eliasen | Aurora, Colorado, USA | 1978 710K Pinzgauer |
| Mike Janssen | | no Pinzgauer |
| Brad Johnson | | Land Rover D90 |
| Josh White | | Land Rover Discovery |
| Ron DePugh & Kent Drummond | Boulder, Colorado, USA | 1963 404.1 Unimog VLF |
| Bob Ragain & Colleen | Littleton, Colorado, USA | 1957 404.1 Unimog "Moglite" |
| Fred Reim & Judy Gardner | Denver, Colorado, USA | 404.1 Radio truck |
| Duane Russell | Castle Rock, Colorado, USA | 1964 404.1 Radio box |
---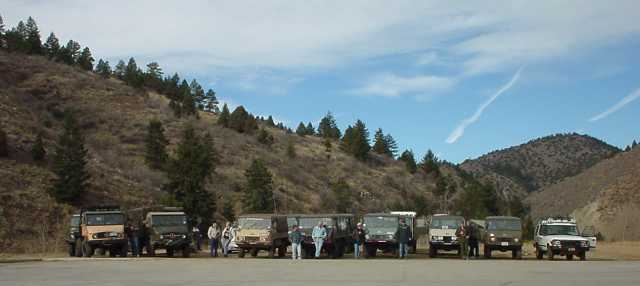 The meeting place, on Colorado 119 south of Blackhawk.
Fred made a fantastic video of this outing. Maybe you can talk him into making you a copy.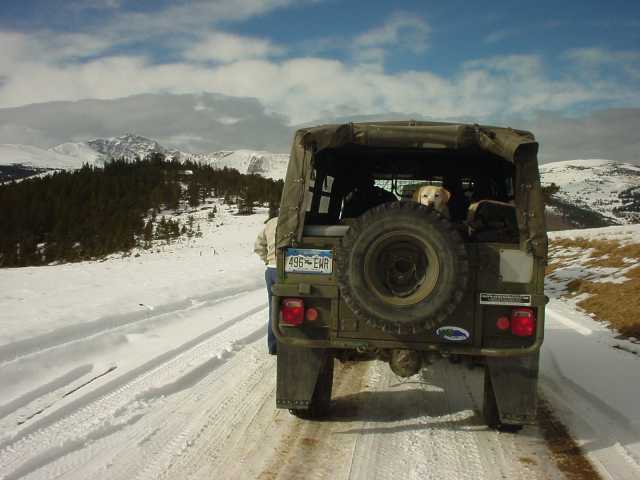 We went north through Blackhawk, and turned off on to the road up North Clear Creek.
Here, we stopped up on top of one of the ridges.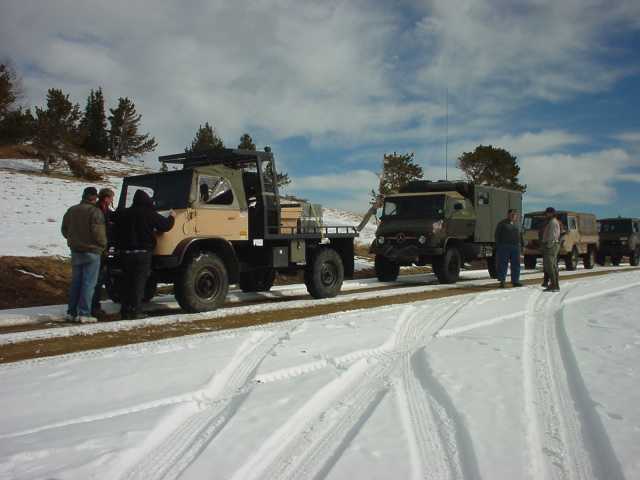 We did some map reading and replanning. One of the roads we had originally planned on driving had some pretty deep snow on it, and several of the trucks in our group were not equipped with chains. We decided it would be safer to find another route.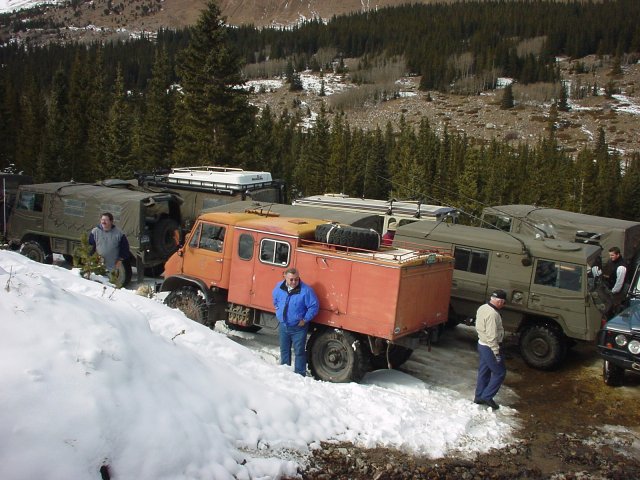 We found a wide place in the road, and the road above there was blocked off..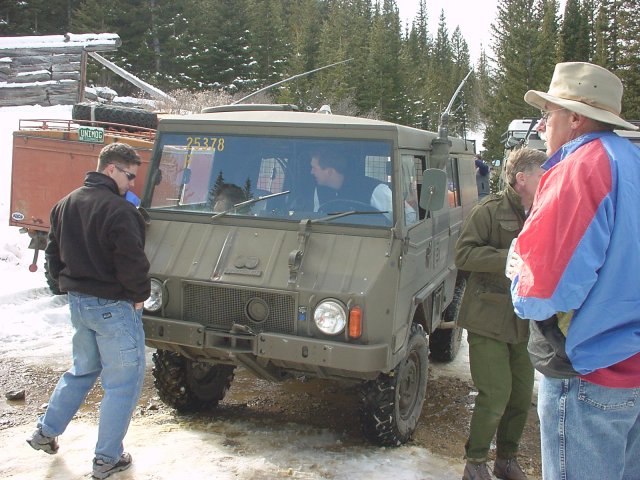 ..so we decided that it was a good place to have lunch. We turned the road into a parking lot.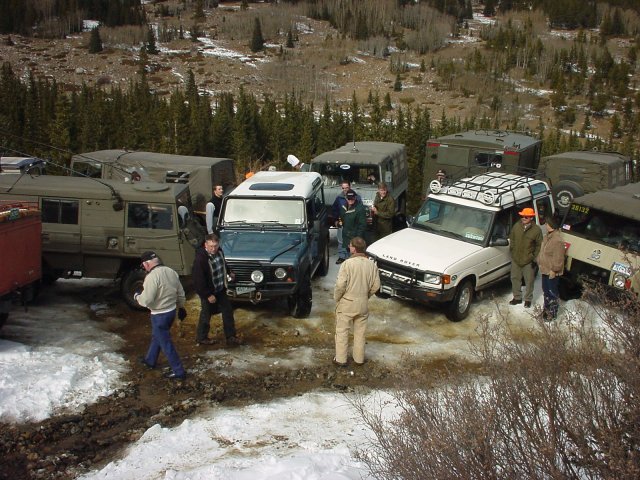 The way this Chili Run works is that everyone brings a can of chili, and we throw all of it together in one pot and cook it up. You can see Master Chef Al Fink in this photo with the chef's hat on. There was plenty of food to go around, and we had a great time swapping tales and filling up.
---
| | | |
| --- | --- | --- |
| | Copyright © 2003 Last modified Saturday, February 05, 2005 02:12:35 | [an error occurred while processing this directive] |